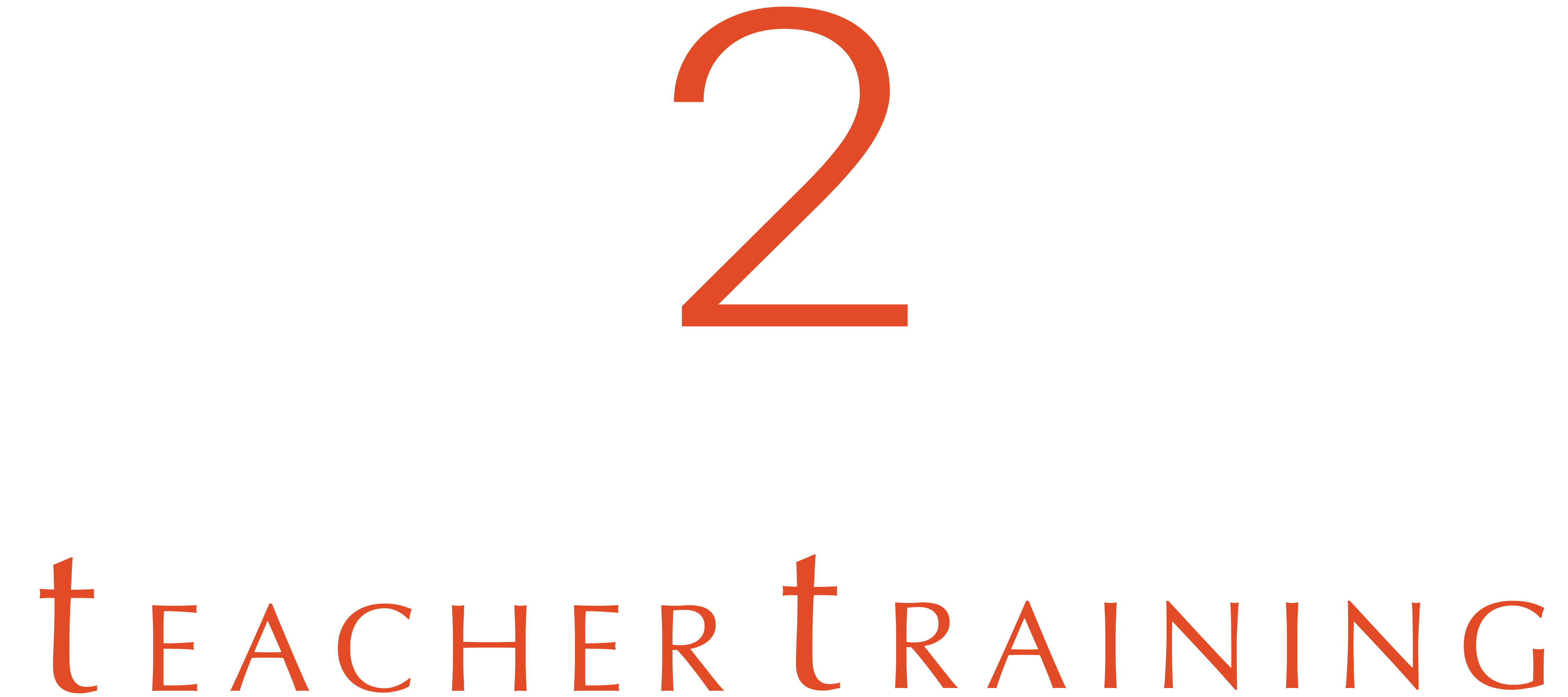 Get Smart Pilates Training That Fits Your Career
Are you thinking about becoming a Pilates Teacher?
Whether you want to build a full-time career, teach part-time, or go to the deepest level of your personal practice; the Mind 2 Body Pilates Teacher Training (M2Btt) in Providence, RI will give you the tools you need to deliver workouts that change people's lives. 
Learn a fluid approach to teaching Pilates, informed by anatomy, and rooted in the classical teachings of Joseph Pilates – but with a contemporary point of view.
Become skilled in hundreds of exercises on the mat and all apparatus.
Learn how to use Pilates and movement principles while safely incorporating the innovations of a legacy of Pilates professionals — all while getting in the best shape of your life!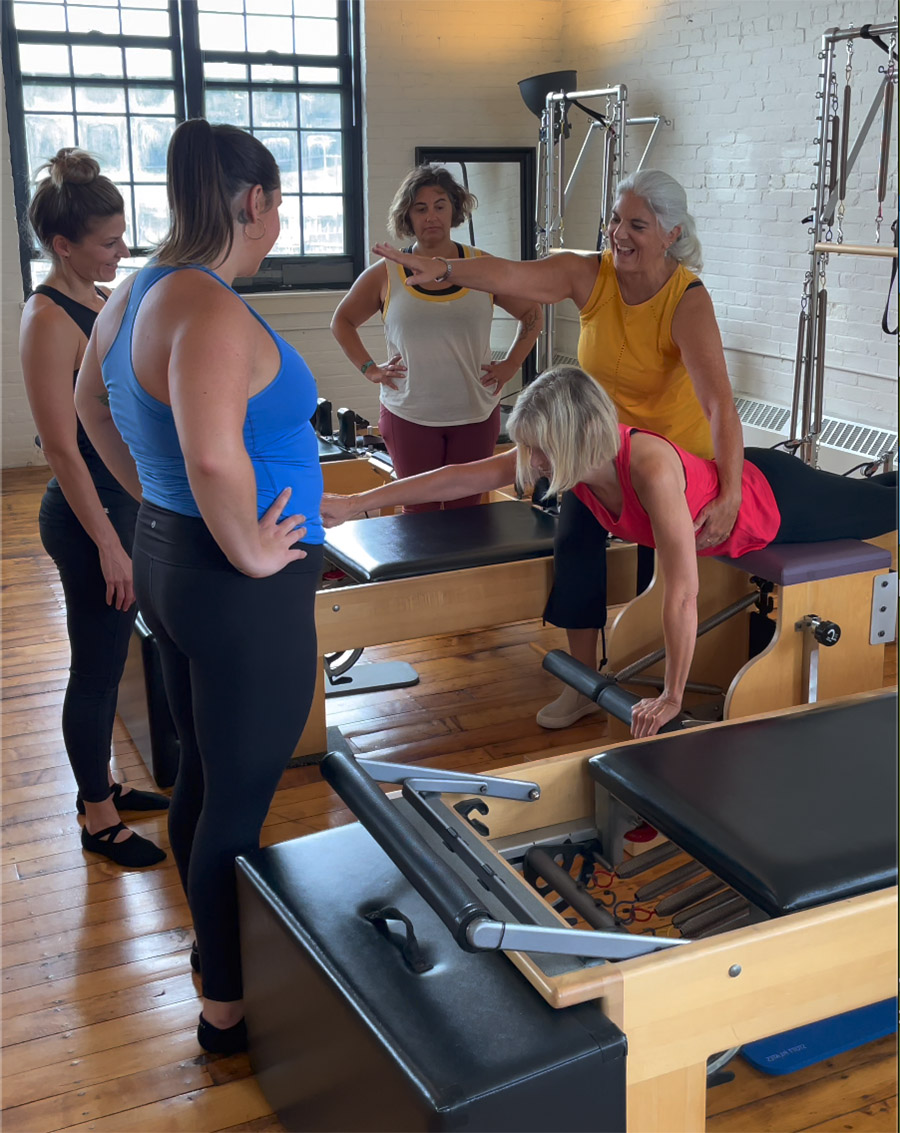 Become a Certified Pilates Teacher
The M2Btt consists of a modular learning approach totaling 500 hours of coursework (including over 300 hours of practice.) Commit to the Comprehensive Program over the course of 8-12 months, which prepares you to pass the NCPT (National Certified Pilates Teacher) exam — a third-party, internationally recognized certification considered the industry standard of excellence in Pilates Teacher certifications.
(Watch the Video for More Details about the program)
Exercise Workshop Modules
(136 Hours)
Each month, we offer a 2-3 day weekend Workshop Intensive where you will learn hundreds of exercises on the mat and all apparatus including Reformer, Cadillac/Tower, Chair, Ladder Barrel, plus props.
Foundational Modules
(54 Hours)
Interspersed throughout the program (so you get them when you're ready) are key Foundational Modules focused on Anatomy of Movement, Teaching Skills, and Injuries & Special Populations.
Integration Hours
(310 Hours)
After each workshop, you complete the required Integration Hours aimed at assimilating what you've learned through observation, self-practice, mentoring sessions, and practice teaching.
Each module is supported by a well-curated collection of learning materials (purchased separately) including full-color exercise manuals, books, exam prep materials, and access to video programming containing thousands of Pilates workouts guided by 200+ of the industry's best teachers.
Workshops are delivered at the beautiful 2-story loft studio in Providence, Rhode Island. Get your Pilates Teaching certification without having to travel to Boston or New York. Can't make it to the studio? Call us about taking the training virtually.
About Our Teachers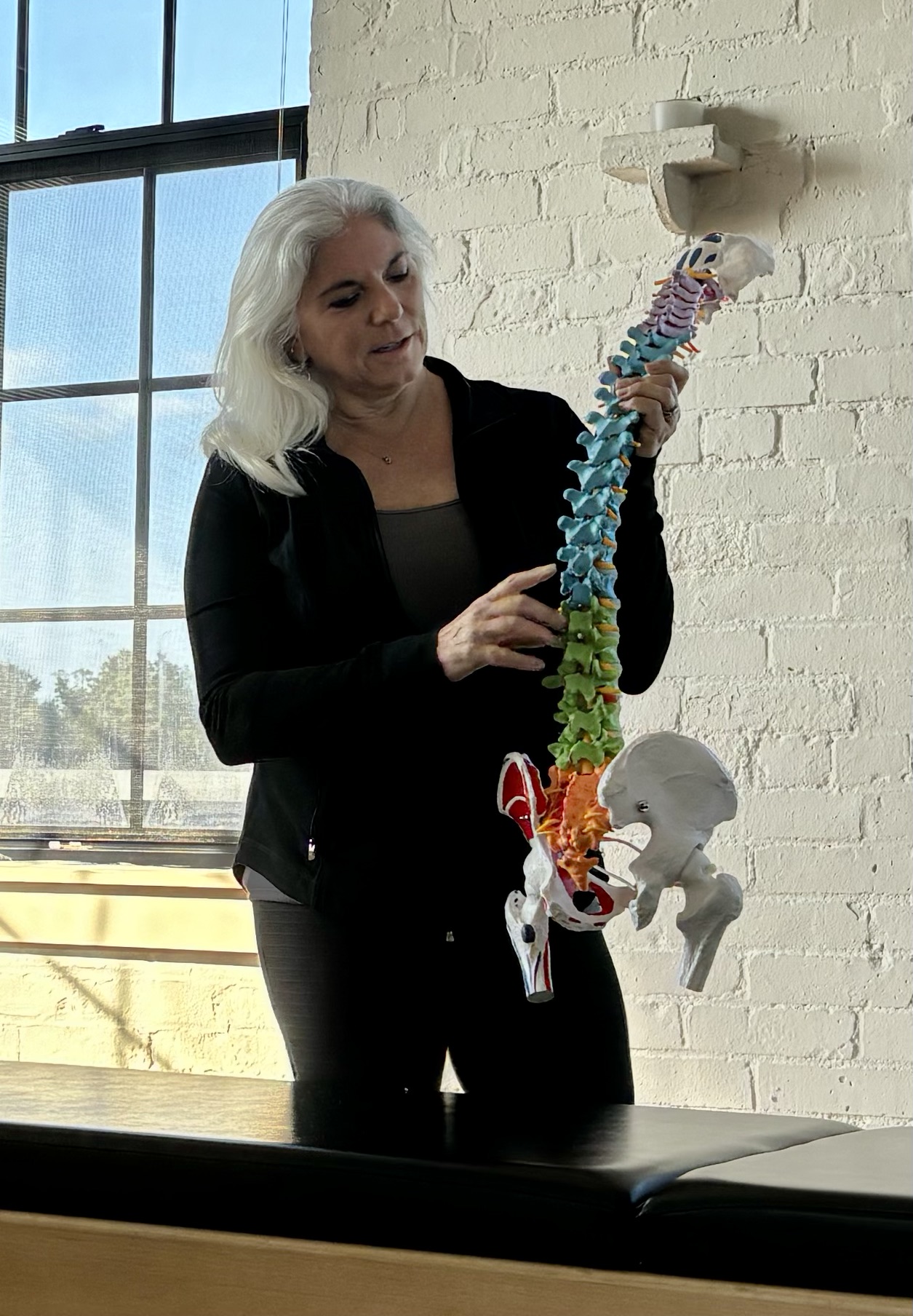 The M2Btt is led by Maria Andresino, studio owner and master trainer, with over 30 years in the fitness industry. Maria, who is also a certified Personal Trainer has been delivering workshops and mentoring movement teachers for most of her career and actually helped write the NCPT Exam.
Her depth of knowledge in anatomy, plus the way she applies her expertise to multiple modalities will help prepare you to teach diverse clients in a variety of environments. And with over 10 years of running a successful studio, she can help you craft a fulfilling career as a successful Pilates Teacher.
Maria will be assisted by her exceptional staff — who have combined decades of experience from multiple Pilates lineages. This gives them a myriad of tools and perspectives to pass on to the next generation of teachers.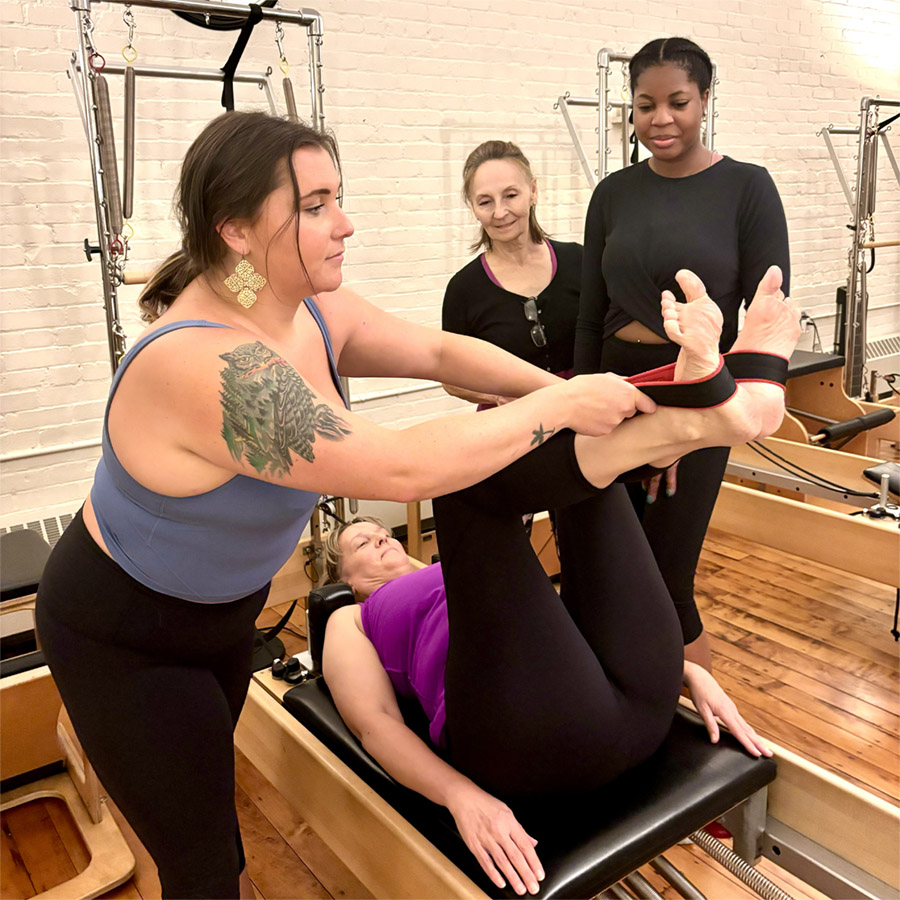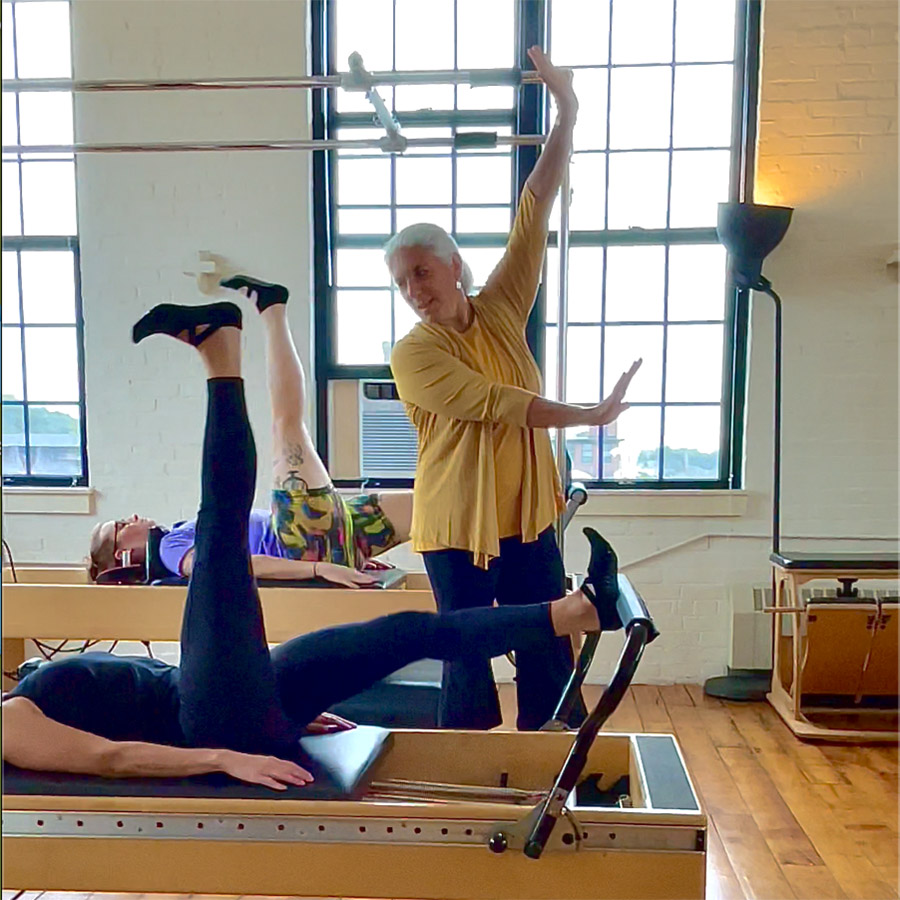 What Makes The Mind 2 Body Pilates Teacher Training (M2Btt) Experience Different?
Train Local
Pilates Teacher Training workshops in Providence, RI are easy to get to—no need to travel to New York or Boston. Plus the well-equipped M2B Studio is a gorgeous place to practice while providing you with opportunities to teach in one of the best studios in New England.
Pay As You Go
With the modular approach to the Comprehensive program, you only need to pay for each module separately. No need for a big up-front payment. If you're not interested in becoming a certified teacher, you can take each module separately to deepen your knowledge and skills in the Pilates system.
Lay the Foundation
Instead of being bombarded with all the basics at the beginning of your training, our Foundational Module approach delivers the information when you're ready for it.
Learn Classical Roots With a Contemporary Approach
Our teachers have been around long enough to have watched the industry grow and change. Our focus is to give you the history, principles, and original Pilates exercises, but prepare you to incorporate recent best practices into your own teaching style.
Be Free From Ties to a Single School
We focus on preparing you to become a National Certified Pilates Teacher (NCPT) through a third-party, internationally recognized certification. This means you can continue your education through Mind 2 Body Fitness or take workshops from other great teachers and schools recognized by the NCPT.
Get Discounted Rates
We offer Professional discounted rates for students and Pilates teachers. This applies to any of your Mentor sessions (Privates / Semi-privates / or Group Classes) taken at Mind 2 Body Fitness. Pay less as a student, not more!
Get Paid to Apprentice Teach
Once you have completed a portion of your Integration Hours, we bring you on as M2B Apprentice staff so you can teach real clients and receive an apprentice rate. We believe this is the best way to accelerate your learning and prepare you for the final Exam. Once certified by NCPT – you are welcomed to the M2B team as full-time staff.
M2Btt Modules and Dates
Schedule Subject to Change
M2Btt Comprehensive Program:
** Foundation Module
2024 Dates
Onboarding (4 hrs)
Jan 13
** Anatomy of Movement (18 hrs)
Jan 19-21
Mat 1 Beginner (18 hrs)
Feb 23-25
Mat 2 Advanced (18 hrs)
March 22-24
Reformer 1 Beginner (18 hrs)
April 26-28
Reformer 2 Advanced (18 hrs)
May 17-19
** Teaching Skills (18 hrs)
June 7-9
Cadillac / Tower (18 hrs)
July 19-21
Chair / Ladder Barrel (18 hrs)
Aug 16-18
Integrating Props for Mat & Apparatus (18 Hrs)
Sept 27-29
** Injuries and Special Populations
Oct 25-27
Super Advanced Apparatus (6 hrs)
Nov 23
NCPT Practice Written exam
Nov, Dec, Jan 2025
M2Btt Practical Test-Out
Nov, Dec, Jan 2025
NCPT Written Certification Exam
Nov, Dec, Jan 2025
Total M2Btt Program: 500 Hours
190 Workshop Hours
310 Integration Hours (60 observation, 70 self-practice, 105 Mentor Sessions, 75 Practice/Apprentice teaching hrs)
Program Cost
The cost for each Module ranges from $300 (for 1-day Workshops) to $550 (for 3-day Workshops). All your Integration hours (except Mentor sessions) and your Practical Test-Out are included. The Comprehensive Mind 2 Body Fitness Teacher Training consists of 11 modules for a total workshop cost of $5800.
Additional costs (purchased separately) include:
Materials (books & manuals) at approximately $50-$75 per module
Access to video programming for 1 year at a discounted student rate of $15/month
Mentor Sessions (Privates, Semi-privates and Group Classes) taken at M2B paid at the discounted Professional rate as shown on the website
NCPT Prep materials include approximately $65 for manuals & practice exams and $300 in exam fees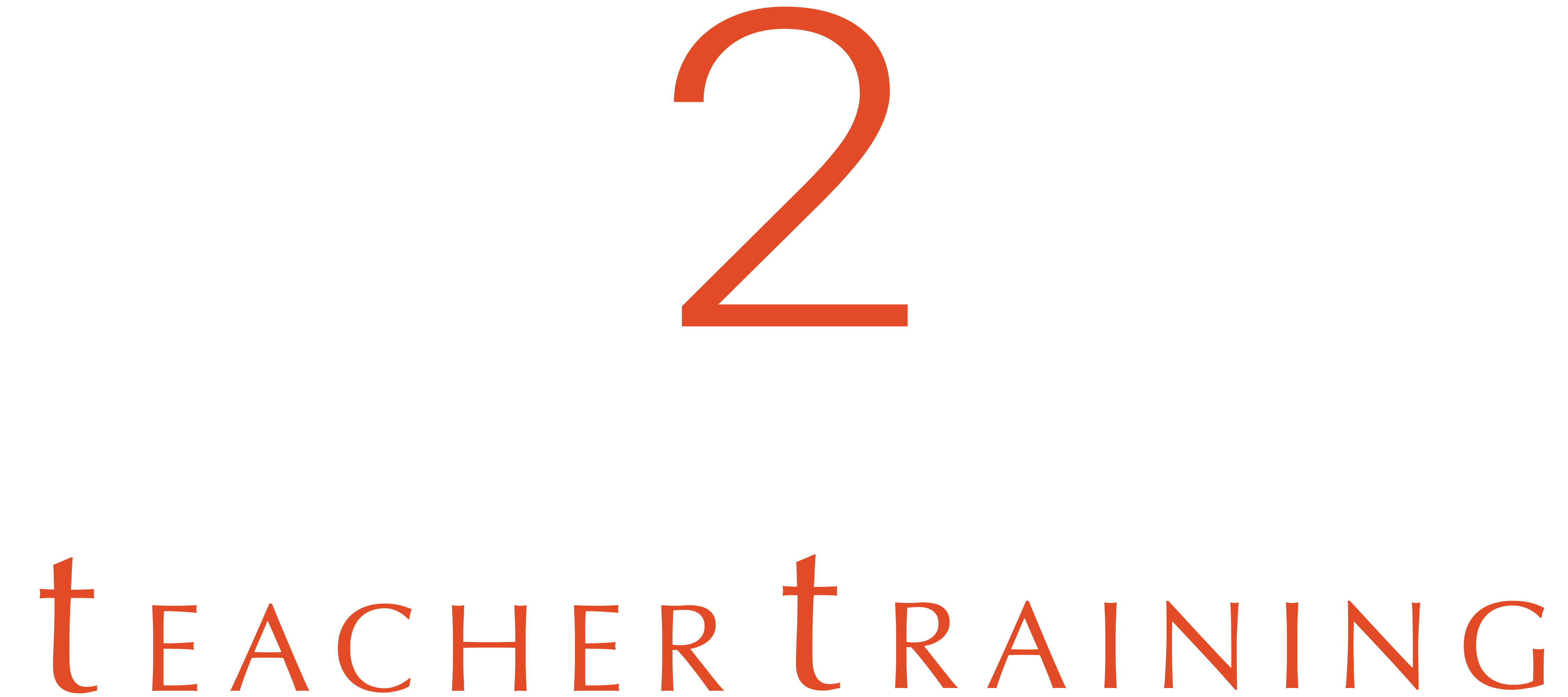 Apply for the Teacher Training Program
Teacher and Apprentice Feedback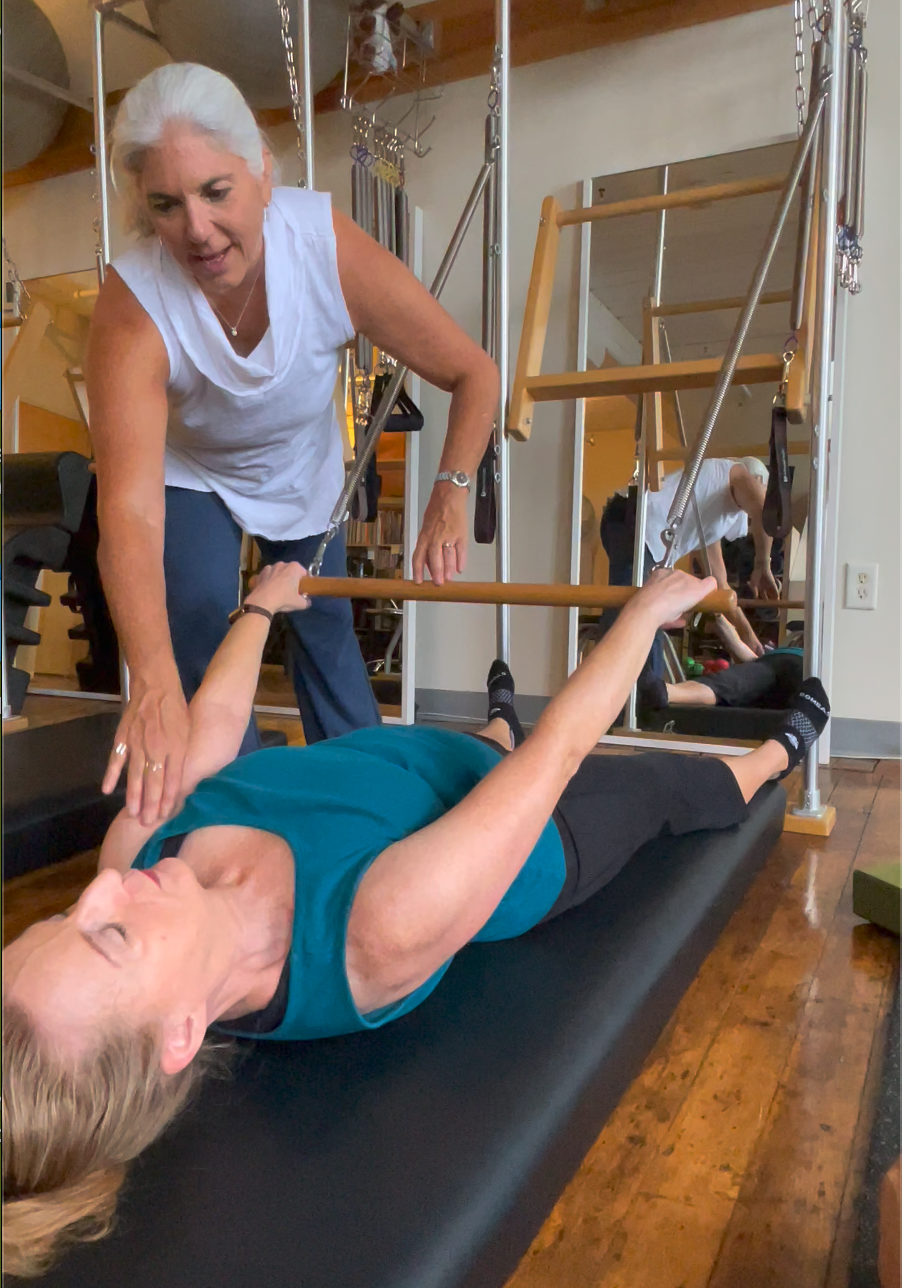 FAQ
What Are The Materials? Where Do I Get Them?
Once you register for each module, we'll send you a list and purchase links to the required materials including manuals, books, and videos. These are updated regularly so that you have the most recent materials available. You will be expected to acquire materials on your own before the Module begins.

How Do I Pay?
Each module is paid separately. A non-refundable deposit of $100 per Module is due 7 days prior to the workshop start. The remaining funds are due in full on the 1st day of the workshop. Payment for the M2Btt Test-Out is included - Payment for NCPT materials and exam is made separately to them. Please contact us if you would like to organize a payment plan — we want to make this work for you.
Do I Have To Take Workshops In Order? What If I Miss a Class?
The modules are designed with a comprehensive approach to learning to teach Pilates. You are expected to take all modules in order. No makeup sessions are available (but depending on the size of the class and the schedule of students, we may be able to modify schedules to accommodate needs.)
How Long Are The Workshops?
The M2Btt Workshops run for 1 to 3 days - one weekend a month. Each day consists of 7 hours plus breaks. You'll get a combination of lecture, demo, and experiential learning, including a 50-minute flow on the mat or apparatus. Start times will vary to accommodate work and client schedules so some modules may start in the afternoon and run into the evening.

How Do The Integration Hours Work?
You will begin your Integration hours after the completion of your first Exercise Workshop. These hours help you assimilate what you've learned into your own body… and then develop your skills in teaching others. Integration hours include Observation, Self Practice, Mentor Sessions, and Practice Teaching. For each hour you'll be required to document date/time/content and answer a set of "homework" questions. Integration hours (some supervised and some unsupervised) can be completed at Mind 2 Body Fitness (in-person or virtually) or at another studio approved by the Program Director. 
What if I have to cancel? Can I get a refund?
You may cancel within 5 days prior to each Module's start for a full refund minus a $100 admin fee. No refunds are available once the module has started.
Mind 2 Body Fitness reserves the right to reschedule or cancel any program. If a module is canceled and we are unable to reschedule, a full refund of all funds paid to M2B will be provided to the student.
I Can't Make It To The Studio — Is There a Virtual Option?
Contact Maria at Mind 2 Body Fitness to discuss taking the Comprehensive Training Virtually. You will need access to all Pilates Apparatus.
Are there Prerequisites?
There are no prerequisites for starting the M2Btt. However, once you begin, you are expected to take the modules in order. 
What Is the Final Test-Out?
Once all Integration hours are complete and initialed by program Director, students will:
1. Purchase and complete the NCPT written sample test for practice.
2. Schedule your Practical Test-Out with the Program Director during which you will: 
A. Perform a 20 minute workout flow using 2 apparatus of your choice
B. Teach a 30 minute flow utilizing a minimum of 2 apparatus — plus 3 randomly assigned exercises on mat or any of the apparatus and/or utilizing props
C. Respond to a case study involving potential injuries and/or  special population, incorporating the proper scope of practice and ethics.
How do I qualify for the NCPT exam?
Once you pass the M2Btt Test-Out - you will receive a certification of completion for the 500 hour program and will meet the requirements to take the NCPT exam  — a passing score will earn you the designation of NCPT - Nationally Certified Pilates Teacher.